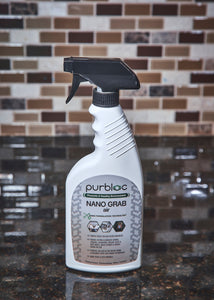 purbloc
NANO GRAB air (16 oz. Trigger Spray - 1 Year Supply)
Sale price
$29.26
Regular price
$38.99
PURIFY THE AIR WITH SAFE, NON-TOXIC & ECO-FRIENDLY "NANO GRAB air"
(1 Year Supply, Treats 12-18 Filters) 
Designed to help capture more contaminates from the air in your home or business, purbloc introduces the worlds first, non-toxic, spray on air filter enhancer, developed using NANO FORMULATION TECHNOLOGY. Filtering the air in your home or business can't get any easier or more cost effective, simply spray on to brand new or well cleaned reusable air filters and allow to dry, that's it! Your entire home or business is now equipped with the BEST air purifying system available. NANO GRAB air does just that, grabs the air pollutants from the air on a nano level, meaning what use to pass right through the air filter is now getting grabbed, held and thrown or washed away every month! Easy, Simple & Safe. 

Moderately spray NANO GRAB air on to both sides of the filter and allow to fully dry, 10-20 minutes usually
Once filter is fully dry to the touch, install filter like normal
Repeat steps every month
When first using NANO GRAB air you may notice the filters much dirtier than before when changing them out. This is the result of the extra pollutants getting grabbed from the air, this will not be the case after a month or two as the air has been cleaned and you are now maintaining its purity going forward

NANO FORMULATION TECHNOLOGY is the manipulation of chemistries to produce the same atoms and molecules on a macro scale, which greatly enhances material performance, uses and safety profile.

SIMPLE SPRAY ON FILTER ENHANCER
GRABS, FILTERS & REDUCES GERMS, VIRUSES, ALLERGENS, POLLEN, DUST & DUST MITES, MOLD SPORES & ODORS FROM THE AIR
PURIFY THE AIR WITH SAFE, NON-TOXIC & ECO-FRIENDLY NANO TECHNOLOGY